Winter is no longer coming. It's here with a vengeance. If you haven't be lucky enough to get cuffed this snowy season, you'll have to actually leave your apartment for dates. While beaches and park picnics are out of the question, there are still plenty of fun date ideas for the winter season. And some, you can only do in the winter, so absolutely take advantage of those.
With that said, here are 27 great winter date ideas.
1. Indoor mini golf
Indoor mini golf always costs more than you think it will, but it's a great idea for a couple of reasons. First off, you're inside and can stay warm. Second, you don't have to force conversation. If you're talking about something interesting, of course, continue talking about it, but otherwise, you can just have fun golfing together.
Pro tip: If you have a competitive side, now is not the time to let it out. This is mini-golf, not the PGA tour. Your main priority is having fun and getting to know them—not winning the game.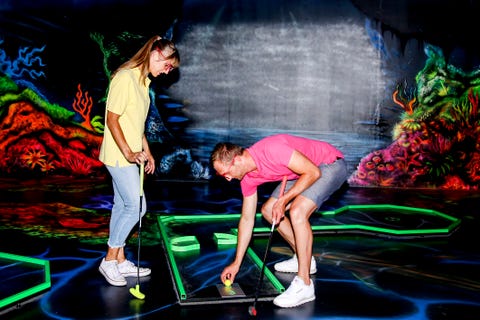 Isa FoltinGetty Images
2. Sledding
There's a term in social psychology called the "misattribution of arousal." It's a process whereby people mistake the cause of what's arousing them. How does this relate to sledding? Well, sledding is exhilarating. It causes your adrenaline to rush and your heart to race. Your date may assume that you're the one causing her heart to pump, as opposed to the adventure itself.
Also, sledding is super fun.
Pro tip: Grab some hot chocolate afterwards to warm yourselves up.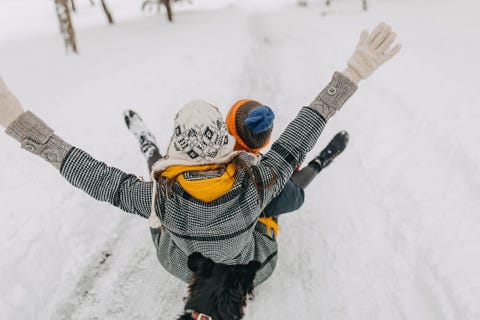 supersizerGetty Images
3. Museum or gallery opening
Add a little ~ CuLtURe ~ to your date by taking your partner to a museum or gallery opening. Show off what you learned in that Intro to Art History course you took freshman year and got a solid B- in.
Pro tip: Before you decide where you're going, ask your partner what kind of art they like and offer a few suggestions in case they've already seen the exhibit or have no desire to attend.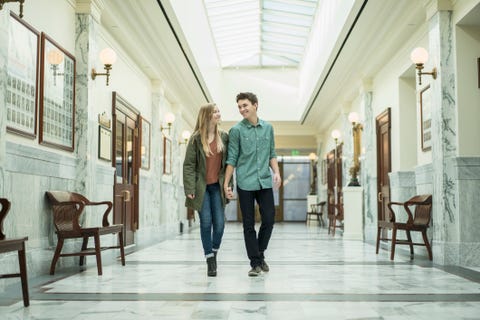 Hill Street StudiosGetty Images
4. Ginger Bread House
Why not build a ginger break house together? It's fun, artsy, and allows you two to explore your more creative sides together. It's also a great photo op if either of you loves taking pics for the 'Gram.
Pro tip: For an extra challenge, make a ginger bread house together only using ingredients you have lying around the house.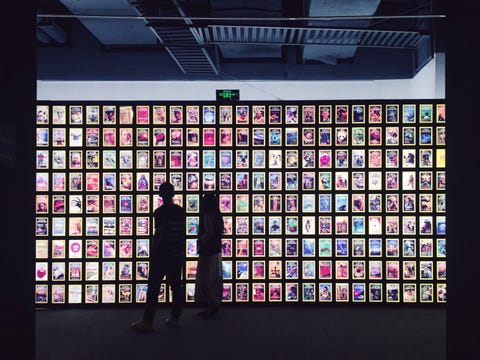 Lingjing Liu / EyeEmGetty Images
5. Wine tasting
Your partner doesn't have to be a sommelier to appreciate this date. In fact, it's probably more fun if they like wine, but don't know much about it. A vineyard is out of the question in the dead of winter, but if you do a Google search, you should be able to find some tasting rooms in your area. If you're on a budget, wine stores sometimes offer free tastings.
Pro tip: After your tasting, buy an actual bottle of wine that you can split together (instead of spitting it all out like a fancy person).
6. Go holiday shopping
We don't necessarily think of "shopping" as an ideal first date, but holiday shopping isn't just shopping. There's something—dare I say—magical about it. Especially if you stop to warm up with hot chocolate or mulled wine. And if you're bad at buying presents for family members and friends, having someone to help you is selfishly, a very good idea.
Pro tip: Don't do it at the mall. See if there's a charming holiday market in your area, where you can wander through the maze of decked-out kiosks.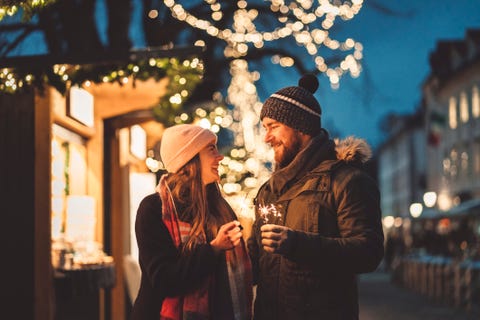 spyderskidooGetty Images
7. Cook together
A survey found that cooking ability is one of the most appealing qualities a man can have. Prove to your partner that you're an ideal mate by preparing a meal together. Go for something simple but delicious, like homemade pizza (not the frozen kind) or doing breakfast for dinner.
Pro tip: If you're feeling ambitious, try a recipe you've never made before. Doing something new together is a great way to increase bonding.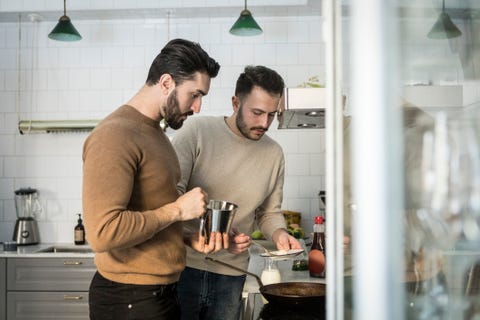 MaskotGetty Images
8. Game night
You can either have a game night alone, where you play Scrabble, video games, or another 2-person game, or make it a double date with another couple.
Pro tip: No one likes a sore loser.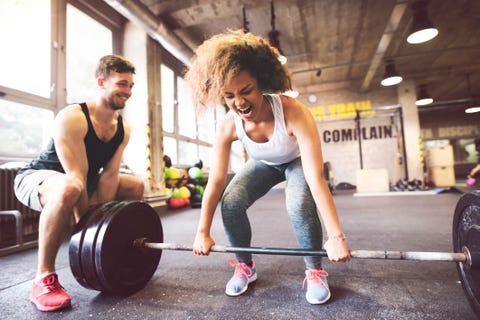 Westend61Getty Images
10. Bowling
Hear us out. We're well aware bowling never sounds fun. But when you actually get to the alley and start bowling, it is strangely fun. It's old-timey! You can laugh at your poor performance, because hardly anyone's actually good at bowling! And as with mini golf, you can talk as much as you want—or, if your date isn't super chatty, you can just go ahead and bowl.
Pro tip: Again, as with mini golf: Don't get weirdly competitive, please.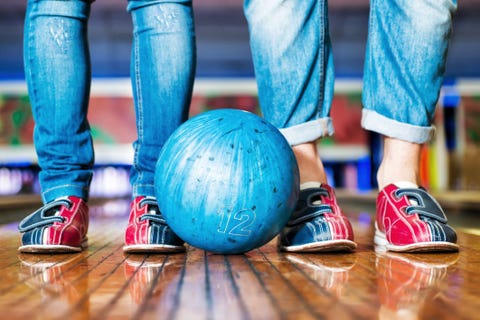 SeanShotGetty Images
11. Check out Christmas lights
Most cities have an area or at least a street where there's an elaborate production of Christmas lights on display. Go and check them out together.
Pro tip: The only thing is that this might be a quick date depending on how long the street is, so it may be good to grab a coffee or head to a bar afterward.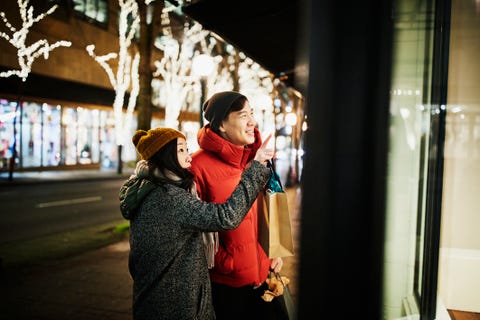 Thomas BarwickGetty Images
12. Indoor rock climbing
There's a reason Bachelor contestants always do bungee jumping or rappelling or some other kind of adrenaline-pumping date: Overcoming an exhilarating challenge together definitely increases bonding. With rock climbing, you'll definitely want to check that they're into the idea beforehand—but if they are, this is a really fun activity. It's okay if you're not belay certified—plenty of gyms have auto-belay systems for beginners to climb on their own.
Pro tip: If you're not into heights, try bouldering instead.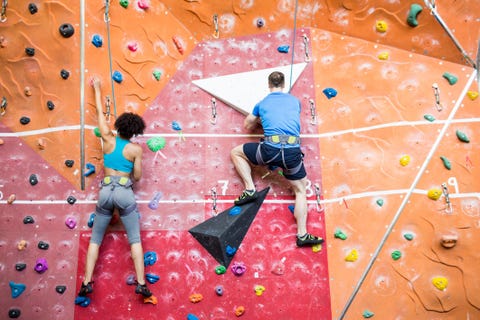 WavebreakmediaGetty Images
13. Drink and paint
Across the United States, there are multiple companies that throw what I'm just going to call a "drink and paint" night. You drink some wine or beer, and together, the class paints the same landscape with the help of a teacher. Even if you are a terrible painter, somehow, the paintings always turn out half-decent.
Pro tip: Don't get too drunk on the drinks, even if it's tempting.
14. Trivia
We'd recommend asking your partner if they want to do it first, because some people hate trivia (especially if they're terrible at it). If they're game, head to a pub trivia night together. You might end up realizing you both have encyclopedic Star Wars knowledge!
Pro tip: If it's a third or fourth date and you want to start introducing them to your friends, then this is a great opportunity.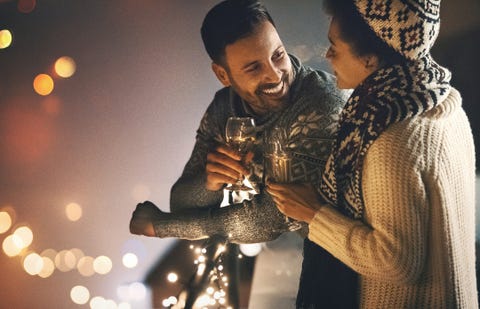 gilaxiaGetty Images
15. Book Reading
Reading books makes you more attractive to women, according to data collected by eHarmony. If you two are little bookworms, find a book reading that's happening at your local neighborhood bookstore.
Pro tip: Offer to buy them the signed book afterwards.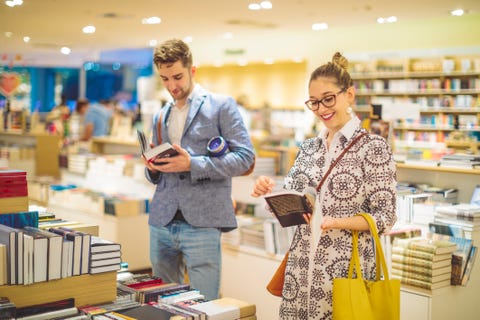 Eva-KatalinGetty Images
16. Picnic in your living room
Just because you can't have a picnic outside doesn't mean you can't have a picnic at all. Grab a blanket, a bottle of wine, a cheese platter, and spread on out on your living room floor. Best part? No ants!
Pro tip: Don't half-ass it. Still have a picnic basket even though you're not going anywhere. Your date will appreciate all the thought you put into the date.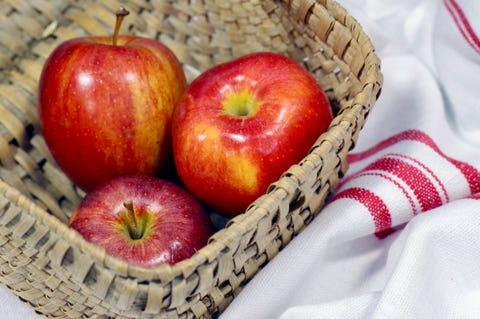 Adrienne BresnahanGetty Images
17. Play Jeopardy!
With the classic game show now on Netflix, you can pretend Alex Trebek is in your living room. Play Jeopardy! on your TV, and you can pause in between questions (or answers, really) to keep score.
Pro tip: This does take a little bit of work and patience to pause and keep score, but if you're both Jeopardy! fans, it's definitely worth the effort.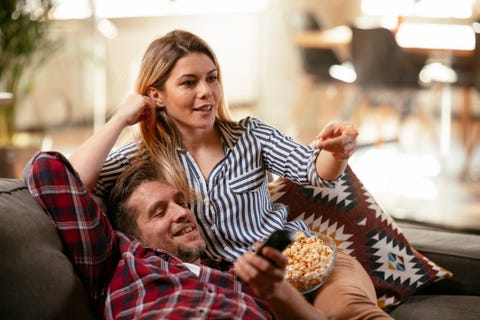 milanvirijevicGetty Images
18. Get out of town
Probably not ideal for a first or second date, but if you've been with your partner for some time, and you're both starting to get Seasonal Affective Disorder, then book a trip somewhere warm.
Pro tip: If you don't have the funds to book a flight somewhere warm, scour Airbnb for a small, remote cabin where the two of you can escape the hustle and bustle of city life.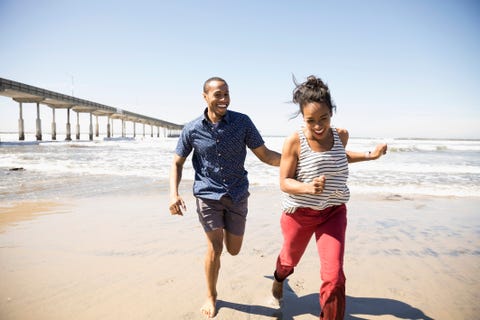 Hero ImagesGetty Images
19. Cooking class
If you don't think you have the skills to cook alone with your partner, then take a cooking class together. It's a great activity where you still have the ability to chat. And at the end, you get to feast!
Pro tip: Many cooking classes fill up quickly, so you'll want to book a little in advance if possible.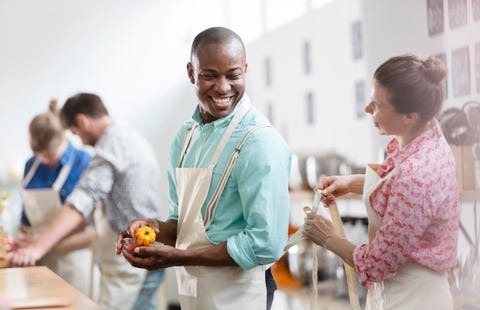 Caiaimage/Agnieszka OlekGetty Images
20. Snowman
You probably saw this date idea coming from a mile away. During winter, it's obligatory to build at least one snowman on a date.
Pro tip: Since odds are building a snowman won't take you that long, you can also make snow angels or get into a little snowball fight. Or go inside and make hot toddies.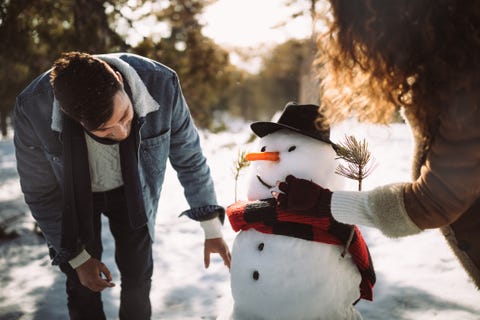 wundervisualsGetty Images
21. Karaoke night
Karaoke is always fun. It also shows you can be vulnerable because unless you're actually a good singer, you're going to look somewhat silly. That's just the nature of karaoke.
Pro tip: If it's too cold to leave the apartment, bring karaoke night to your living room. Yokee is a karaoke app that actually works great. Plug your phone into a set of speakers and let the music blast.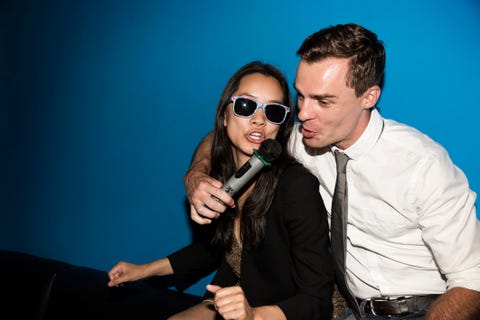 Cavan ImagesGetty Images
23. Bake holiday treats
Go ahead and make those treats you really only eat during the holiday season, like mint chocolate bark, gingerbread cake, or Christmas cookies.
Pro tip: If baking isn't your style, go ahead and make some homemade eggnog together.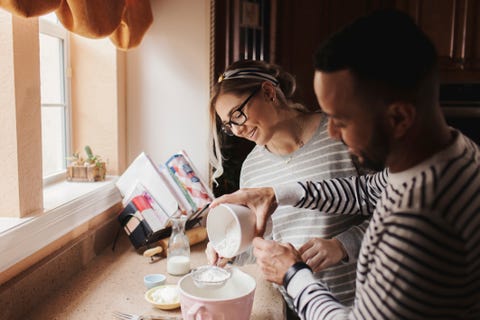 Cavan ImagesGetty Images
24. Book a brewery tour
Head to a brewery tour and try out all the seasonal beers they only have on tap during the winter.
Pro tip: Try to find a brewery with a larger beer hall after, so you can stay and drink there comfortably. Order two flights and sample everything they have on tap!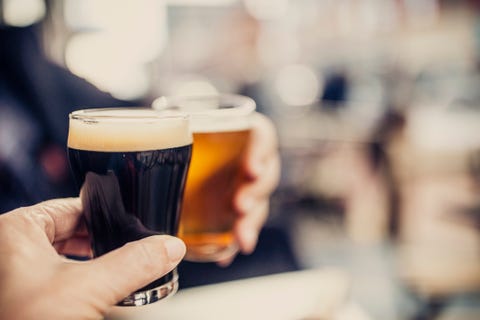 InstantsGetty Images
25. Acroyoga class
Acroyoga is a portmanteau of acrobatics and yoga—and if you can find a couple's class, you'll learn how to configure your bodies into super-cool positions. Which, you know, could be useful for later in the evening.
Pro tip: Stretch even before you get there. Stretch after. Seriously, you can't stretch enough for this class. It's probably going to be a lot more challenging than you think.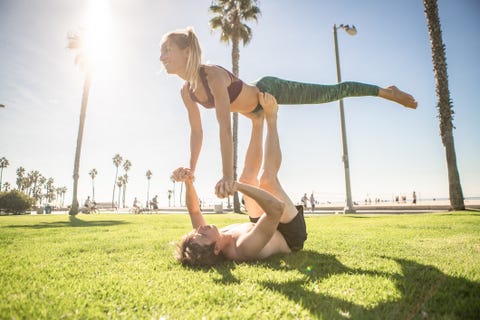 swissmediavisionGetty Images
26. Ice skating

Last but certainly not least, you can go ice skating. It's a classic winter date idea for a reason. Everyone loves it.
Pro tip: This is an extremely romantic gesture, so we wouldn't recommend taking someone you're only casually dating to the rink.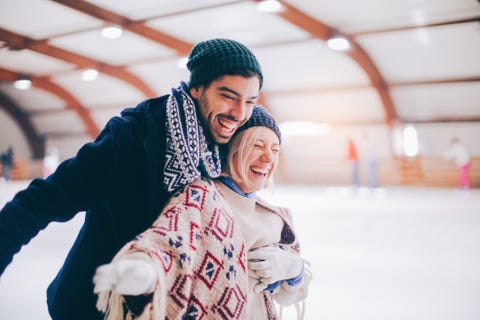 Source: Read Full Article