The frozen foods section in your grocery store is a constant in an ever-changing world.  Whether your current state is best summed up in a TV dinner for one or in a family size bag of pizza rolls, that brightly lit, air-conditioned aisle is there for you just like it always has been.  Unfortunately, it's also home to some of the unhealthiest foods in the store.  Empty your freezer of these particularly egregious offenders along and you'll have that much more room in there for the good stuff — and no, that doesn't only mean ice cream.
1. Special K Flatbread Breakfast Sandwich with Sausage, Egg, and Cheese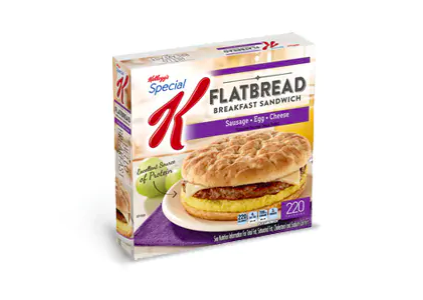 Serving size: one sandwich
Calories per serving: 240
Worst stat: 115 mg (38% DV) cholesterol
If something has 'flatbread' in its name, it's healthy, right? Wrong. So wrong. At only 240 calories, this little whopper nonetheless manages to pack in over a third of your daily recommended cholesterol and nearly as high a fraction of your daily sodium with 820 mg.
Next: Wanted for cardiac arrest
2. Jimmy Dean Breakfast Bowl with Bacon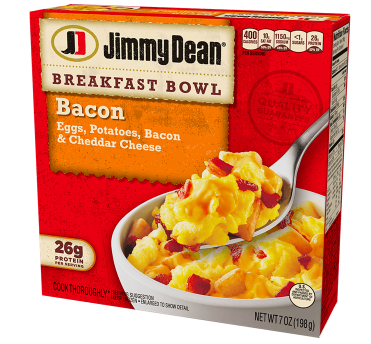 Serving size: one bowl
Calories per serving: 410
Worst stat: 340 mg (115% DV) cholesterol
This bowl has 24 g of fat, including 10 from saturated fat, and 1230 mg of sodium. With the growing number of healthy options out there, there's simply no reason to make unhealthy choices. Do yourself a favor and go with a breakfast that doesn't give you all of today's — and some of tomorrow's — cholesterol.
Next: Leggo your Eggo, for your own good
3. Eggo Cinnamon French Toaster Sticks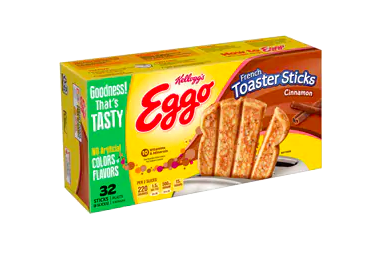 Serving size: two slices
Calories per serving: 220
Worst stat: <1 g fiber
If you want a quick and easy breakfast for your kids — or, let's face it, for yourself — don't turn to this toaster classic. While their 500 mg of sodium and 15 g of sugar is bad enough, what's worse is what these frozen slices don't have: enough fiber or protein (4 g) to jumpstart anyone's day.
Next: Yeesh, what a quiche
4. Special K Crustless Quiche with Uncured Ham, Cheese, Quinoa, and Peppers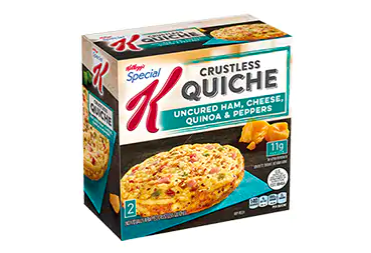 Serving size: one quiche
Calories per serving: 140
Worst stat: 200 mg (67% DV) cholesterol
A prime example of why choosing the lowest calorie option can backfire terribly. This frozen quiche manages to pack a nearly impressive amount of cholesterol, saturated fat (20% DV), and sodium (23% DV) into its relatively low 140 calorie count.  On the bright side, it also contains 22% of your daily recommended protein, but that's too little, too late to redeem this crustless health hazard.
Next: Nothing lean about it
5. Lean Pockets Roasted Turkey, Bacon, and Cheese in a Baked Pretzel Bread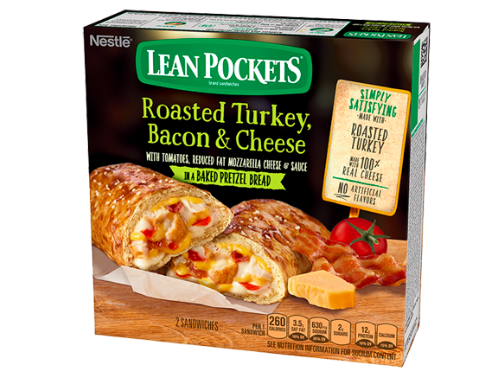 Serving size: one sandwich
Calories per serving: 270
Worst stat: 620 mg (26% DV) sodium
While Lean Pockets are billed as the healthy alternative to the classic Hot Pockets, this particular version is actually worse nutritionally than some of the standard choices. In addition to way too much sodium, one serving contains 3.5 g of saturated fat, 50 mg of cholesterol, and a single gram of fiber, not to mention 2% or less of your daily recommended amount of vitamins A, C, and iron.
Next: The crust isn't the problem here
6. Smucker's Peanut Butter and Grape Jelly Uncrustables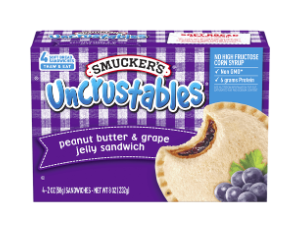 Serving size: one sandwich
Calories per serving: 210
Worst stat: 8 g (17% DV) of added sugars
These may seem tame compared to some of the other offenders on this list, but when you think of a daily lunch go-to for families, there's just no need for one with such a high amount of added sugar — especially given the prevalence of healthy jams and peanut butters on the market today.     
Next: A pizza my heart — and not the healthy piece
7. Red Baron Singles Cheese Deep Dish Pizza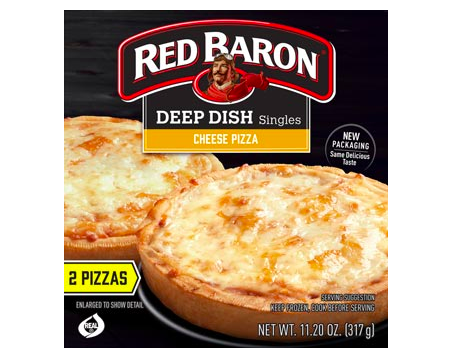 Serving size: one pizza
Calories per serving: 400
Worst stat: 9 mg (46% DV) saturated fat
With nearly half your daily recommended saturated fat but less than a tenth of your recommended fiber, these personal pizzas are full of so many empty calories. Add in 830 mg sodium and a host of ingredients that are no fun to say and even less fun to eat, and you'll realize this pie is single for a reason.
Next: Lean, mean, and nothing green
8. Lean Cuisine Chicken in Sweet BBQ Sauce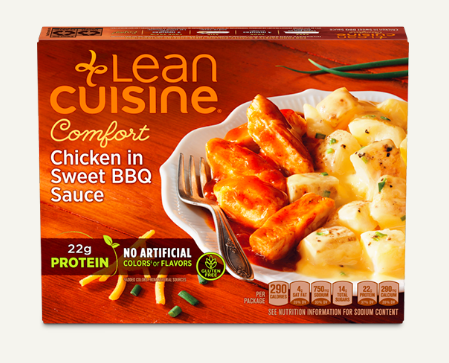 Serving size: one meal
Calories per serving: 290
Worst stat: 750 mg (33% DV) sodium
While some Lean Cuisine meals may be healthy and convenient options, this particular variety is not. Thanks to the sauce, you're getting a third of your daily recommended sodium, as well as 55 mg of cholesterol and only 2 g of fiber. Moreover, the closest it comes to providing vegetables is in its tomato paste and 2% or less of onions.
Next: Say it ain't so, Marie
9. Marie Callender's Slow Roasted Beef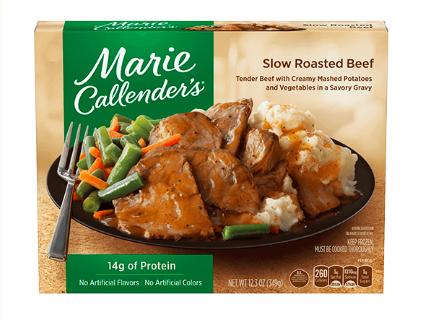 Serving size: one meal
Calories per serving: 260
Worst stat: 1310 mg (57% DV) sodium
There's a remarkably high amount of sodium and saturated fat (5 g) in this homestyle meal, as well as 55 mg of cholesterol. The worst part, though, is that the beef itself is actually the last ingredient listed, and it's in the context of 'beef and modified food starch product,' which contains such mouth-watering names as maltodextrin, soybean oil, and caramel color. Pass.
Next: Just go for the blue box instead
10. Stouffer's Classic Macaroni and Cheese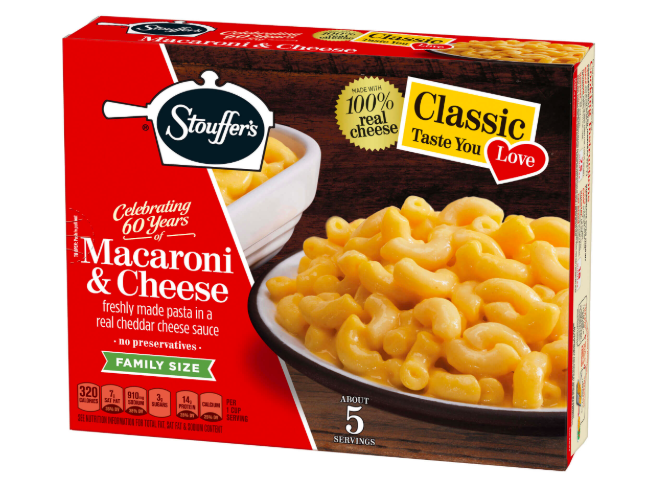 Serving size: one cup
Calories per serving: 350
Worst stat: 920 mg (38% DV) sodium
Mac and cheese may be good for your soul, but this one is terrible for your health. This option packs over a third of your daily recommended sodium and saturated fat amounts — and that's if you only eat one cup. Let's face it, though: with a comfort food like this, who sticks to the suggested serving size?
Next: Hopefully not just like grandma used to make
11. Wegmans Italian Classics Vegetable Lasagna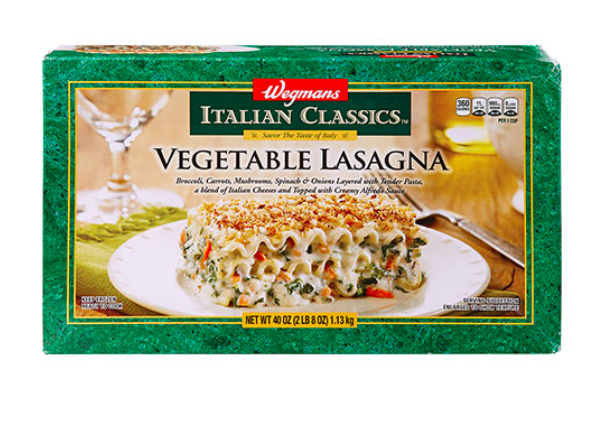 Serving size: one cup
Calories per serving: 360
Worst stat: 11 g (55% DV) saturated fat
Sure, there are some vegetables in there, but first they had to cram in the half and half, enriched flour, three kinds of cheese, butter, and 900 mg of sodium. Maybe that's why they only ended up with 3 g of fiber — not nearly as much as you'd expect from a purportedly veggie-based dinner, and a measly fraction of the recommended 25 g per day.
Next: This is why the chickens in Chicken Run were running
12. Marie Callender's Chicken Pot Pies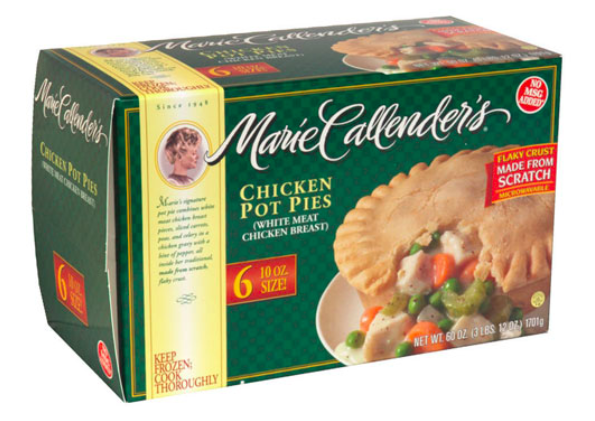 Serving size: one pie
Calories per serving: 630
Worst stat: 37 g (57% DV) total fat
Mrs. Tweedy's Homemade Chicken Pot Pies weren't even this bad, and she was a movie villain. This bit of round, doughy goodness gives you half your daily recommended values of both saturated fat and sodium. Don't forget the partially hydrogenated soybean oil, shortening, and caramel color. Yum?
Next: Sharing is caring — but still not healthy
13. Digiorno Small Sized Pepperoni Stuffed Crust Pizza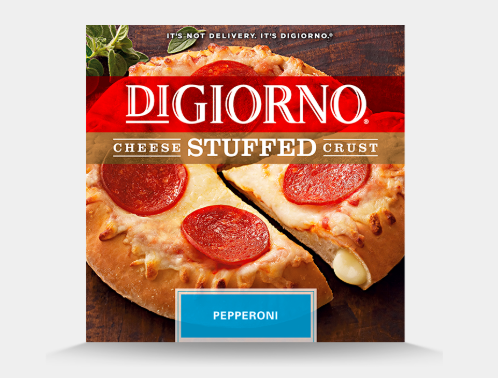 Serving size: 1/2 pizza
Calories per serving: 330
Worst stat: 8 g (40% DV) saturated fat
If this pizza looks the same size as your usual personal pizza, that's probably because it is. What Digiorno used to call their 'personal' pizza is now listed under their 'smaller' pizzas, with a serving size designated as one half of the pie. While it's commendable that the company cares about portion sizes, the expectation that people will actually begin splitting this dish is adorably optimistic. Even if they did, though, they'd still be getting a quarter of their recommended daily fat and 29% of their recommended daily sodium, which makes this pizza anything but a healthy choice.
Next: What's in a name? All the fat
14. Sara Lee All Butter Pound Cake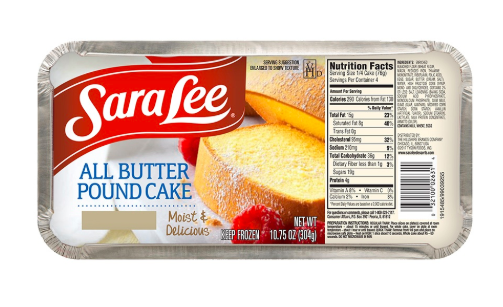 Serving size: 1/6 cake
Calories per serving: 290
Worst stat: 8 g (40% DV) saturated fat
'All butter pound cake' sums it up pretty well. While we may not ask much of our desserts in terms of nutrition, we should at least hold them to a standard of non-violence. Between the saturated fat, 95 mg of cholesterol, and 19 g of sugar, this one fails that test. Maybe next time consider something with only half the butter, or maybe even some fruit?
Next: Easy as pie
15. Marie Callender's Chocolate Satin Pie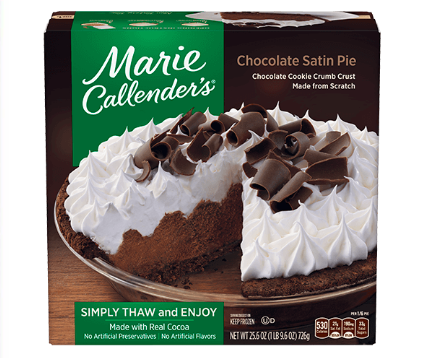 Serving size: 1/6 pie
Calories per serving: 530
Worst stat: 21 g (105% DV) saturated fat
Sure, nobody expects something with the words 'chocolate' or 'pie' in the name to be healthy — and frankly, if it includes 'satin,' you might be expecting a dress. Even among the heavyweights of the dessert aisle, though, this one packs a big punch. In addition to more saturated fat than anyone should eat in a single day, one piece includes 33 g of sugar. Somewhere, a dentist is crying.
Source: Read Full Article