Breastfeeding can seriously take over your schedule, and sometimes that means nursing your baby when you want to be doing something else…like working out.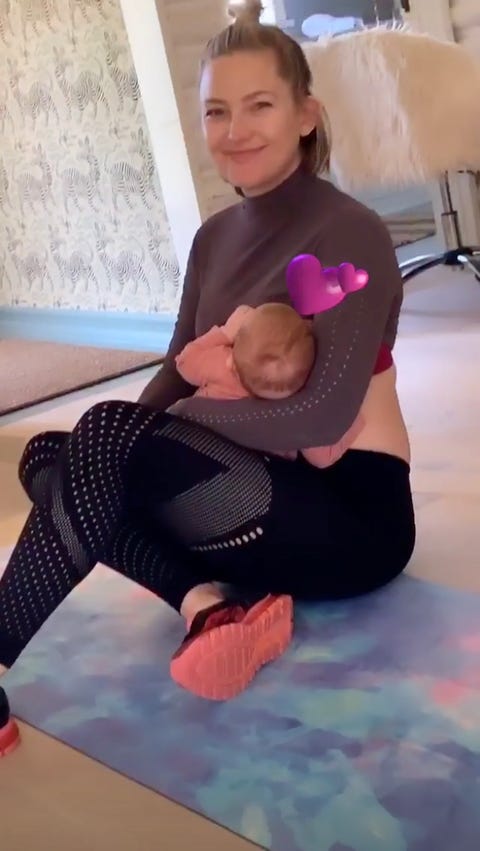 @erinfoster
Kate Hudson knows the drill. Her friend Erin Foster just shared a few Instagram Stories from an at-home barre workout with Kate. At one point, Kate needed to nurse her daughter Rani. "And, we're pausing for a breastfeed," Erin says, as the camera pans over to a smiling Kate nursing Rani.
Instead of stopping her workout to finish things up, Kate went back into the workout while breastfeeding her baby. "Motherhood doesn't slow us down," Erin wrote over another video of Kate doing leg lifts, lunges, and more while nursing. BTW: Kate was smiling the entire time, and making the whole damn thing look completely effortless. (For the record, it's not—I've tried it.)
Kate and Erin were doing The Mirror workout, which is a futuristic-looking workout that uses an interactive mirror to stream live and on-demand workout classes in your house. (Heads up: The Mirror costs about $1,500.)
@erinfoster
Kate is also super into Pilates, and regularly raves about her trainer Nicole Stuart on Instagram. Plus, she spends time dancing, circuit training, and cycling on her Peloton bike (which she says "is the best no-excuse workout—especially if I only have 20 minutes to spare").
Back in November, just two months after giving birth, Kate announced that her goal is to lose 25 pounds postpartum, and recently signed on as an ambassador for Weight Watchers as part of that goal.
Basically, Kate does a little bit of everything—and sometimes she even does it while breastfeeding.
Source: Read Full Article