If you've ever broken up with someone, you know it sucks. It's hard to move on from a relationship and say goodbye to someone you previously had (or still have) feelings for. Sometimes, you know if your heart that breaking up was the right call, even if it was tough to do. Other times, you end up seriously regretting your decision.
These men have all been there. Here, they share the moments they've regretted breaking up with someone and not giving the relationship more time and attention.
This guy realized he never communicated properly.
"Months later, after dating and having relationship-based conversations with other women, I realized that I didn't give the relationship a fair chance or fight hard enough. When I was finally able to see beyond my own ego, I realized that I failed to communicate openly and honestly about my true feelings for her and the situation we were in. I became the source of her hurt and pain, her heart becoming guarded and her skepticism of other men. Those are the things that I regretted not too long after we broke up, not to mention what the future could've been like." –Vance
This guy wished he had someone to share his adventures with.
"I remember being in London, traveling alone after a break-up. As I was walking through all that history, I kept wishing I had someone to share it with. The only person I wanted to be with in that moment was the girl I just dumped. I called her from a payphone in London to hear her voice and to ask her to take me back, or at least wait for me until I came home. We've been together ever since (22 years), and now we go on every adventure together." —Adam
This guy regretted it the second she walked away.

"The moment of my regret … was when she turned her back to walk away from me, in tears. At that moment I realized my mistake. After several days of calling her, [I found] out she had moved back to Michigan. Leaving no forwarding contact information, I was heart broken for years and still think of her to this day. To this day, no luck finding her on any social media outlets." —Robert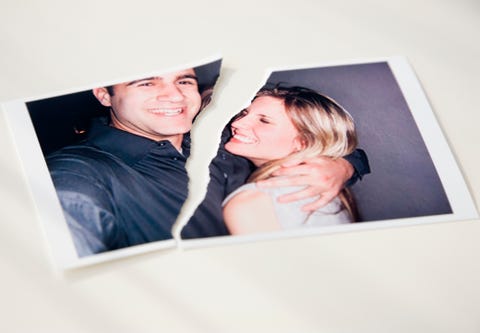 Getty ImagesJamie Grill
This guy realized he took his partner for granted.
"Broke up with her because of little flaws that bothered me … and then when I started dating other people, I realized that they had so many more things that were dealbreakers or not fun to be around. They didn't have good conversations, not as sexual, just lacked in stuff [my ex and I] had. I realized I really couldn't do that much better, because she was great and I didn't appreciate her enough." —Doug
This guy realized he wasn't the kind of partner he should have been.
"I didn't think she'd be a type of girl I'd marry, and we didn't have as much in common as I wanted, but I realized it was because I wouldn't let her in that much and didn't put in a lot of effort to do things together or share in each other's interests. Didn't give the relationship a chance to actually work and looking back I think it would've because we had a lot in common and always liked being with each other. Shouldn't have written it off." – Mark*
This guy regretting things when he saw his ex with another guy.
"I am still following her Instagram account and I saw a photo with another dude who was pretty good-looking and they seemed happy. I knew she had moved on, and that is when I started to really regret what I did because I was the one who wouldn't commit to her when she was ready and great. And now she is married to that guy…so there's that." —Damian*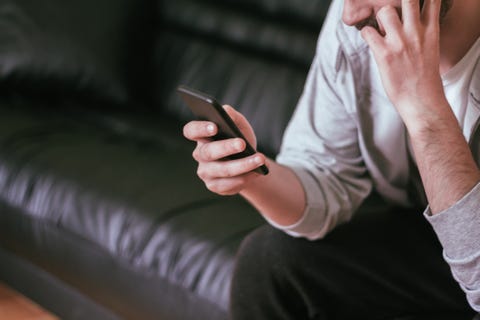 Getty ImagesMarko Nikolic Photography
The way this guy's ex handled the breakup make him realize he shouldn't have ended it.
"All my other ex girlfriends have cried like crazy or yelled at me or we got in a big fight and the break-up didn't end well. We walked away not liking each other and having bad feelings. But with this girl, she took it with understanding—I wasn't ready and wanted to focus on myself and not have a GF then—and she gave me a hug and said how she valued our relationship and she was there if I needed her. That's when I knew I lost a really great girl." —Miles
This guy misses how affectionate his ex was.
"I miss the way my ex used to touch my hair and just curl up next to me. She would always want to touch me and be affectionate, and my new girlfriend doesn't do that. To be honest, I really regret breaking up with my ex and I am thinking of reaching out to see how she is doing. Maybe we can get back together." —Rob*
No One Gets Humor Like She Did
"All the girls I had dated since my ex didn't get my sense of humor like she did … So I actually reached out to her a month or so after we broke up and she was nice enough to give me another chance and we are still together and I am thankful. I missed her a lot." —Rick
*Some names have been changed to allow subjects to speak freely on private matters.
Source: Read Full Article