In her newest Instagram video, Dr. Pimple Popper pops a blackhead on a man's neck.
This is Dr. Pimple Popper's first blackhead in a while, after a long run of popping cysts and other pimples.
Blackheads occur when oil, dead skin cells, and bacteria collect in and block pores.
Dr. Pimple Popper has popped a lot of pimples in her day—but watching her pop blackheads will literally never get old.
After what seemed like an influx of ooey-gooey cysts, Dr. Pimple Popper goes back to her roots (literally) with her newest video that features a blackhead on a patient's neck just asking to be popped. She even captioned the clip, "Going back to our #roots today!" (Just a quick FYI: Blackheads are caused by oil, dead skin cells, and bacteria that block pores, according to the American Academy of Dermatology.)
Going back to our #roots today! Head over to #youtube because we're Back to Blackheads! 🤘🏻❤️💥 #drpimplepopper #blackheads
A post shared by Sandra Lee, MD, FAAD, FAACS (@drpimplepopper) on
Of course, Dr. Pimple Popper doesn't just squeeze-and-go; she makes an incision at the top of the blackhead for it to come out a bit easier—but not before telling her patient how pleasing his blackhead is. "You have a nice blackhead right here," she says.
She then takes one of her famous comedone extractors and pushes it around the blackhead, and immediately black goo starts to ooze out. "Look at that, nice and clean," she says. "I'll show that to you in a bit."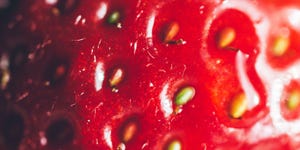 Then, Dr. Pimple Popper tackles another blackhead on an undisclosed body part. She uses her trusty extractor again on a patient's skin and again, immediately, black stuff comes out. The whole time, she's talking about how much she loves lasagna, which feels all kinds of wrong.
As the two are chatting about the types of lasagna they're into, Dr. Pimple Popper casually moves around the patient's skin, popping blackheads like it's nothing.
Um, pretty sure I'll never look at lasagna the same way again.
Source: Read Full Article