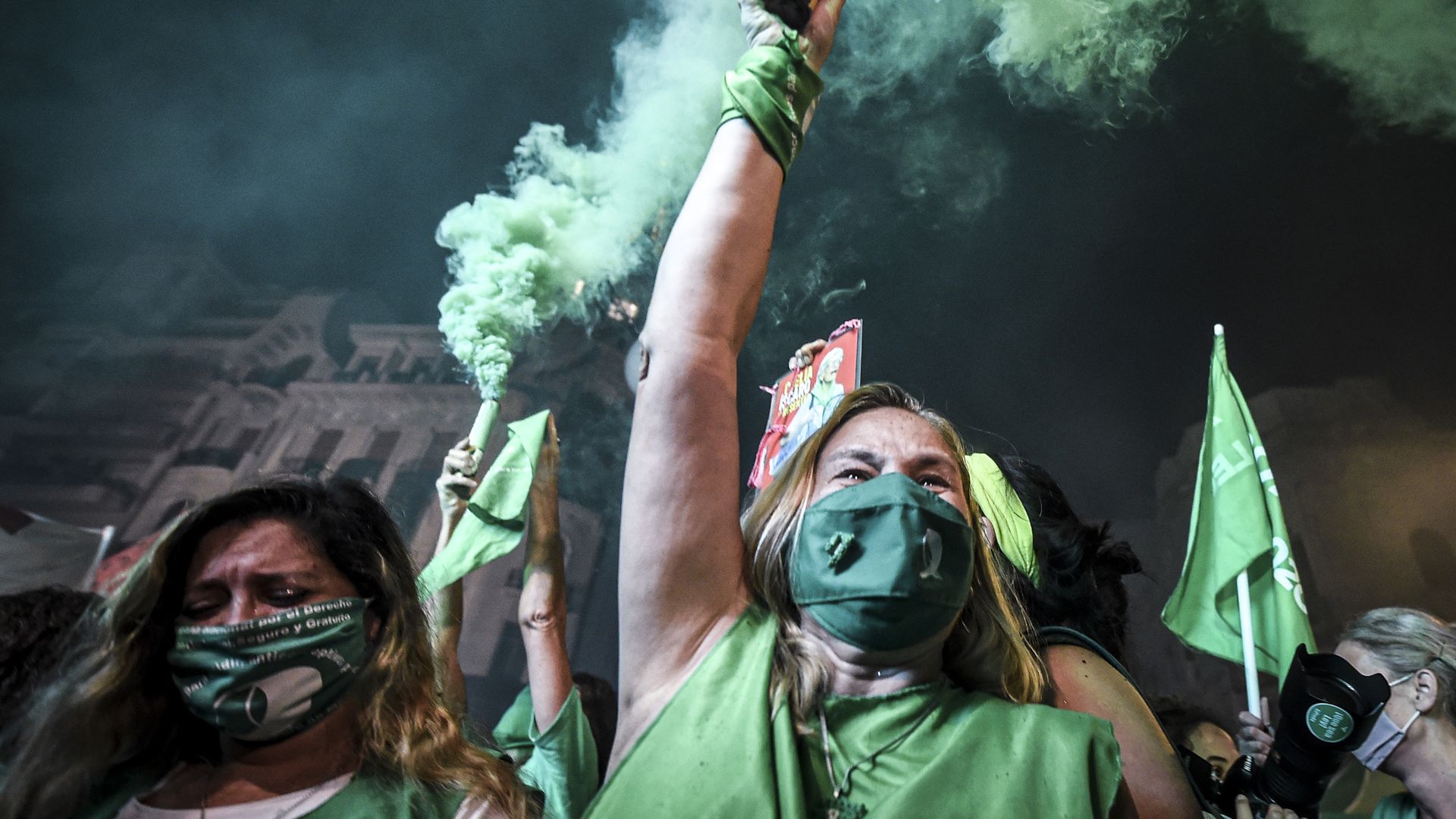 Demonstrators in Buenos Aires celebrate after abortion was legalized in 2020. U.S. activists are learning from the strategies of the Green Wave movement that's helped increase access to abortion in Latin America. Photo: Marcelo Endelli/Getty Images
U.S. abortion rights advocates this week met with their Latin American counterparts in Washington, D.C., to learn about the successful strategies they've used to dramatically increase access in several countries
The big picture: While U.S. courts and states have gutted or chipped away at abortion rights, a movement in Latin America known as the "Green Wave" (Marea Verde) has helped increase abortion access in several countries across the majority Catholic region through protests and legal action.
What they're saying: The Green Wave has been fruitful because the movement is united across countries and is not associated with specific political parties or organizations like it is in the U.S., said María Antonieta Alcalde, director of Ipas of Latin America and the Caribbean, an abortion rights organization based in Mexico.
Alcalde told NPR last year it's less likely that someone will align with the movement as a whole if they disagree with a specific party or organization attached to it.
U.S. advocates "need to look to Latin America because the situation in some states [banning abortion] is very similar to those in our countries," says social activist Morena Herrera, co-founder of the Feminist Collective for Local Development in El Salvador, where abortion is illegal in all circumstances.
Herrera says she advised U.S. advocates to get to know their Latin American counterparts well, adding they can teach them about more ways to help women access abortions in places where it is heavily restricted.
U.S. advocates considered the two-day meetings "extremely historic," as it was the first time these groups "met in a formal way to discuss strategy," says Jade Hurley, communications manager for the DC Abortion Fund.
Hurley says that the U.S. abortion rights movement is often "reactionary" — focused on responding to claims made by anti-abortion groups, especially since Roe v. Wade was overturned.
But Green Wave advocates are often more proactive, Hurley adds.
For example, they spread information on what an abortion looks like — self-managed or clinical — before misinformation reaches the public.
State of play: Years of protests led to Argentina becoming in 2021 the largest Latin American nation to legalize abortion, following in Uruguay's footsteps. Abortion is now legal during the first 14 weeks of pregnancy in Argentina.
Last year, Colombia's constitutional court voted to decriminalize abortion in the first 24 weeks of pregnancy after abortion rights groups sued.
In 2021, Mexico's Supreme Court ruled that abortion cannot be considered a crime based on citizen complaints called amparos. As a result, eight states have decriminalized abortion, joining Mexico City.
Chile's Congress passed a law permitting abortion in some cases in 2017 after mass protests.
Ecuador's national assembly in 2022 legalized abortions in cases of rape.
Yes, but: Other parts of Latin America have some of the world's strictest abortion laws.
In El Salvador, women who get abortions — or even some who miscarry — have been convicted of murder and sentenced to decades in prison.
Honduras' Congress in 2021 approved a reform that enshrined the prohibition of all abortions in the constitution.
Between the lines: Latin American activists have already been helping U.S. women who lost access to abortion after the Supreme Court overturned Roe v. Wade last year.
U.S. women are increasingly accessing medication abortion from Mexico, NBC reports.
The FDA has warned against accessing abortion pills from foreign countries, arguing that foreign drugs are "generally" not the FDA-approved versions, so their safety and effectiveness cannot be guaranteed.
Source: Read Full Article