The COVID-19 pandemic forced the closure of healthcare offices and led many patients to avoid in-person care. New evidence shows that telemedicine provided a critical bridge to treatment for many in less urban areas, and that many patients considered those experiences positive.
Two studies provide evidence for how patients and clinicians used telehealth during the first year of the pandemic, and patient perceptions of their virtual visits Although medical practices in the United States appear to be reducing their use of the technology, the delivery method may be ideal for certain populations.
Telemedicine was a more viable option for patients living in health professional shortage areas (HPSA) and those belonging to other underserved communities, according to a study published last month in the Journal of American Board of Family Medicine by researchers at the University of Houston's Fertitta Family College of Medicine.
The researchers examined telemedicine trends at 42 federally qualified health centers in Texas. Of the 37,428 patients who saw healthcare professionals between January and November 2020, Whites were most likely to attend telemedicine visits, followed by non-Hispanic Blacks and Hispanics.
Although White patients were 61% more likely to use telemedicine to see their provider as compared with Hispanics, Blacks were 37% more likely to receive care via telemedicine than Hispanic patients. Patients living in geographically underserved areas — those living 20 minutes or more from a clinic — were also more likely to schedule telemedicine appointments.
Industry analysis has shown behavioral health and family medicine practices have adapted especially well to telemedicine, according to Victoria Richie, director of intelligence at Sg2, a company that forecasts long-term healthcare business trends. Richie said she expects these types of practices will scale up telehealth in the future, and "2022 is shaping up to be another year of investment in telemedicine."
Patient Experience
In another study examining patient perceptions of telemedicine visits, more than 90% of participants who sought care via a telehealth appointment reported the sessions to be somewhat or very convenient.
Researchers from the Keck School of Medicine at the University of Southern California in Los Angeles found nearly 3 in 4 people in the study said their wait times after check-in were shorter than at a physical office. More than 9 in 10 said they were willing to use telehealth again.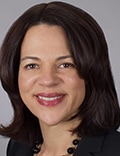 Dr Jehni Robinson
"Reducing commute times, especially for patients who live farther away, is a benefit, and being able to access rural communities is critically important," said Jehni Robinson, MD, chair of the Department of Family Medicine at Keck and a co-author of the study.
However, use of telehealth has dropped sharply since the height of the pandemic, in the summer and early fall of 2020, when Robinson said roughly 60%-70% of the patients at her family medicine clinic were seen virtually. The dip also mirrors national trends.
"While we heavily relied on telemedicine, we felt that it was critically important always to have in-person appointments available as well," Robinson told Medscape. "Our philosophy on this has been that we want to connect with patients in whatever way works best for them."
The study was independently supported. The authors reported no relevant financial relationships.
J Amer Board Fam Med. Published online May 31, 2022. Full text
Ashley Hopko is a journalist in Washington, DC.
For more news, follow Medscape on Facebook, Twitter, Instagram, YouTube, and LinkedIn
Source: Read Full Article