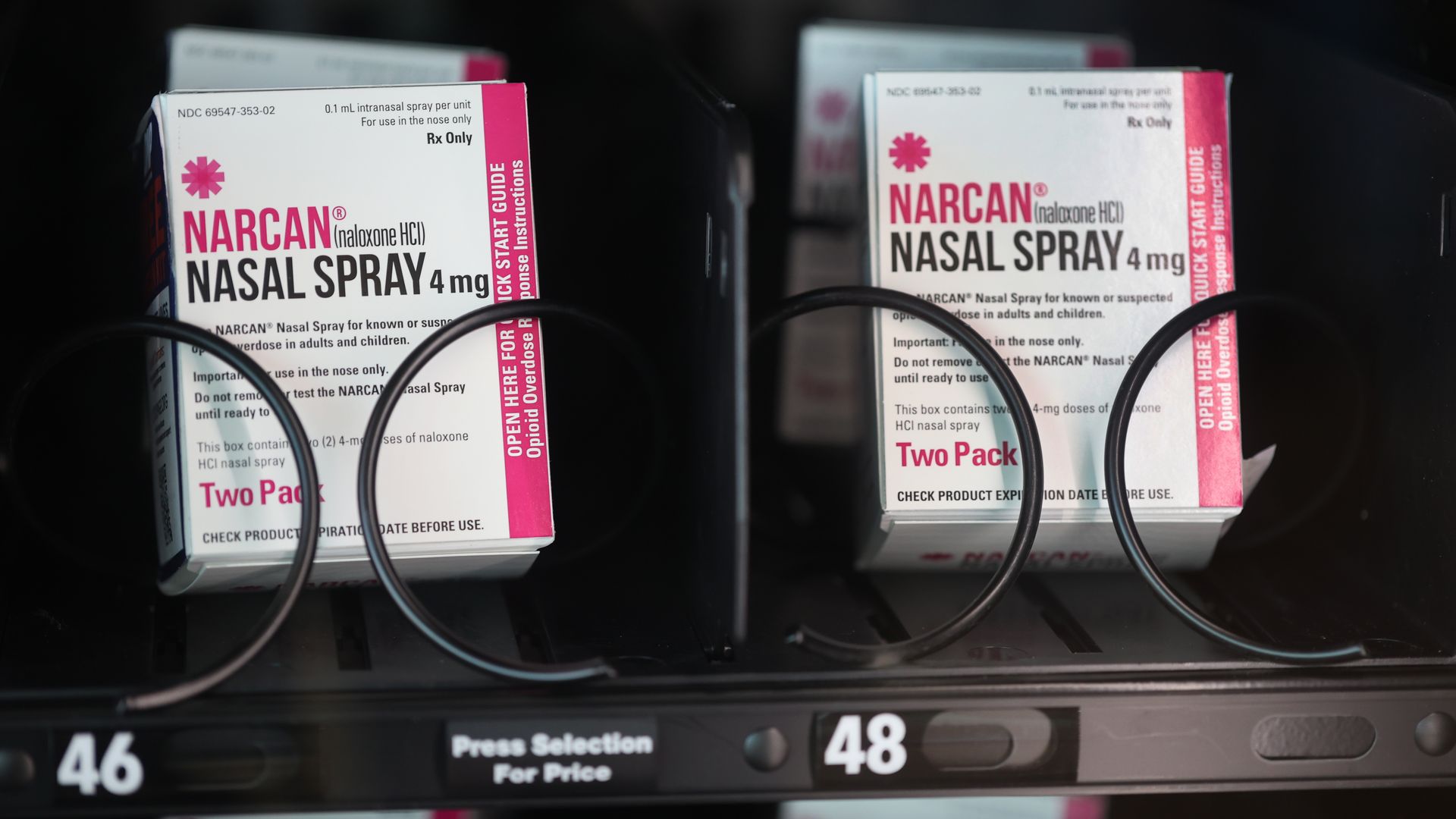 Image: Scott Olson/Getty Images
The Food and Drug Administration on Wednesday cleared the overdose reversal drug Narcan for sale without a prescription — a move health experts say could help slow a crisis that's claiming more than 100,000 lives a year.
Why it matters: Narcan acts five times quicker than the average arrival time for EMS technicians and can be administered without special training, allowing citizens to become de facto first responders.
The big picture: Tuesday's decision doesn't mean the 4-milligram nasal spray will be immediately available in pharmacies, grocery stores and gas stations.
Narcan maker Emergent BioSolutions expects over-the-counter sales to begin by late summer due to manufacturing changes. And the drug's use will hinge on how much the company charges.
What they're saying: Addressing "the dire public health need" drove the decision to give Narcan over-the-counter status, said FDA commissioner Robert Califf.
"We encourage the manufacturer to make accessibility to the product a priority by making it available as soon as possible and at an affordable price."
Emergent hasn't disclosed a list price but has vowed to prioritize making Narcan accessible.
Retail prices can sometimes exceed $100. Some experts say the most in-need individuals may not be able to afford a $3 insurance co-pay.
Catch up quick: The FDA began pushing drugmakers to submit applications for over-the-counter naloxone last fall and fast-tracked Emergent BioSolutions' application in December.
FDA advisers unanimously endorsed making Narcan spray available without a provider's signoff in mid-February, with discussion mostly focused on the clarity of the instruction labels.
Most states already have a standing order that allows people to circumvent a prescription requirement, but stigma around drug use can be a barrier for some — and not all pharmacies stock the drug.
Making it easier to obtain could reduce the stigma of asking for a prescription, per a 2021 report from Integrated Pharmacy Research and Practice.
The bottom line: "No single approach will end overdose deaths," said Chuck Ingoglia, president and CEO of the National Council for Mental Wellbeing. "But making Narcan easy to obtain and widely available will likely save countless lives annually."
Source: Read Full Article