The number of children and teenagers who contact Kids Helpline with problems so serious they require an emergency response remains elevated after COVID-19 lockdowns, while boys are less likely to seek the help they need.
In the first six months of 2022, there were 202,480 calls and web contacts to Kids Helpline, which offers a free national counselling service for young people aged five to 18.
But while that was 8 per cent lower than the first half of 2021, the calls requiring emergency responses only went down 3 per cent.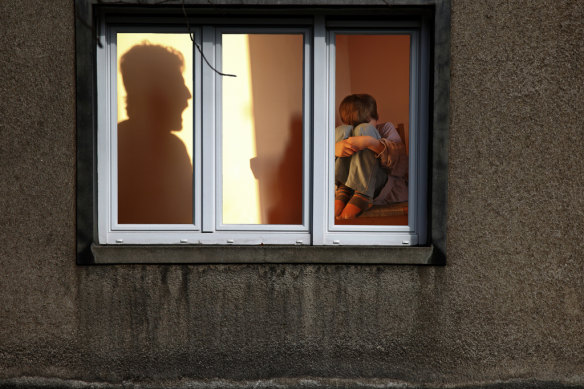 Calls to Kids Helpline have fallen since the pandemic peak, but the number of serious calls that warrant an emergency response remains elevated.Credit:File photo
Kids Helpline staff refer children to the ambulance service, police or child protection authorities for an emergency response when serious concerns are disclosed such as child abuse, sexual assault or a suicide attempt.
Kathryn Mandla, head of advocacy and research for Kids Helpline, said the service saw significant spikes of distress during lockdown last year and this had not fully abated.
"The emergency responses, while we're seeing a slight decrease, are still significantly high, and they're higher than they've been for quite a long time, particularly those relating to suicide," Mandla said.
In the full year 2021, Kids Helpline logged 5823 emergency responses across all ages, more than double the number of 2020, and one in three were about a suicide attempt.
NSW suicide monitoring figures published by the state government on Friday suggest 17 children died by suicide in the first six months of 2022, compared with 19 for the first half of 2021 or 13 for the same period in 2019. In Victoria, figures to the end of July suggest two girls and two boys aged under 18 died by suicide so far this year.
Mandla said the high incidence of suicide made it particularly important for adults to be responsive to signs of psychological distress for boys because they are less likely to seek formal help.
"Before teenage boys seek help, they try to do things for themselves like listening to music, playing games online, using social media, playing sport, hanging out alone, outside and being with family and friends," she said.
Boys represent only 21 per cent of contacts to Kids Helpline but since 2016 the number of contacts from boys aged from five to 18 relating to suicide concerns have increased 71 per cent.
Mandla said a survey of 2500 respondents showed 92 per cent of older boys, aged 16 to 18, found coping with stress was a huge issue for them and 85 per cent were concerned about depression, but 47 per cent had never sought help for their problems and 50 per cent it took them more than four months to reach out.
Girls account for 72 per cent of emergency responses, boys for 16 per cent and young people identifying as gender diverse for the remainder.
Suicide concerns are the second-biggest reason for contacting Kids Helpline for boys aged 15 to 18 and the fourth-biggest concern for those aged 10 to 14.
Boys told Kids Helpline counsellors the fear of being perceived as weak, feeling embarrassed or unwilling to bother anyone, or worried they would make their parents sad or angry were major barriers to seeking help.
But families say that when they reach out for help, they encounter a health system in crisis.
Paul and Jennifer Williamson from south-west Melbourne, who are using pseudonyms to protect the identity of their child, are trying to get mental health treatment for their youngest child, who attempted suicide last week.
The child, who identifies as non-binary and is nearly 15, has suffered anxiety for years and has contacted Kids Helpline on several occasions, which they found helpful. The child found Kids Helpline on their own around age 13 and used it before confiding in their parents.
But as the anxiety has morphed into depression and suicidal ideation, the Williamsons have been trying to find a clinical psychologist or a psychiatrist for the past two years. They found a psychiatrist after an eight-month wait but it was not a good fit.
"I took this week off work to ring psychiatrists and psychologists and try and get on a waiting list or get seen and I have literally not been able to get my child on a single psychiatrist waiting list," Jennifer said.
Jennifer said the psychiatric hospital was a quiet environment with psychiatric nurses, but there was no therapy.
"I was told that 'we cannot offer them any therapy because otherwise they will want to come back'," she said.
"Which is the most disgusting indictment on our system because there's no therapy on the outside and there's no therapy on the inside."
The Williamsons say they were told there would be wraparound support and follow-up when their child left hospital 10 days ago, but they are yet to be contacted.
Kids Helpline: 1800 55 1800; Lifeline: 13 11 14
The Morning Edition newsletter is our guide to the day's most important and interesting stories, analysis and insights. Sign up here.
Most Viewed in Lifestyle
From our partners
Source: Read Full Article