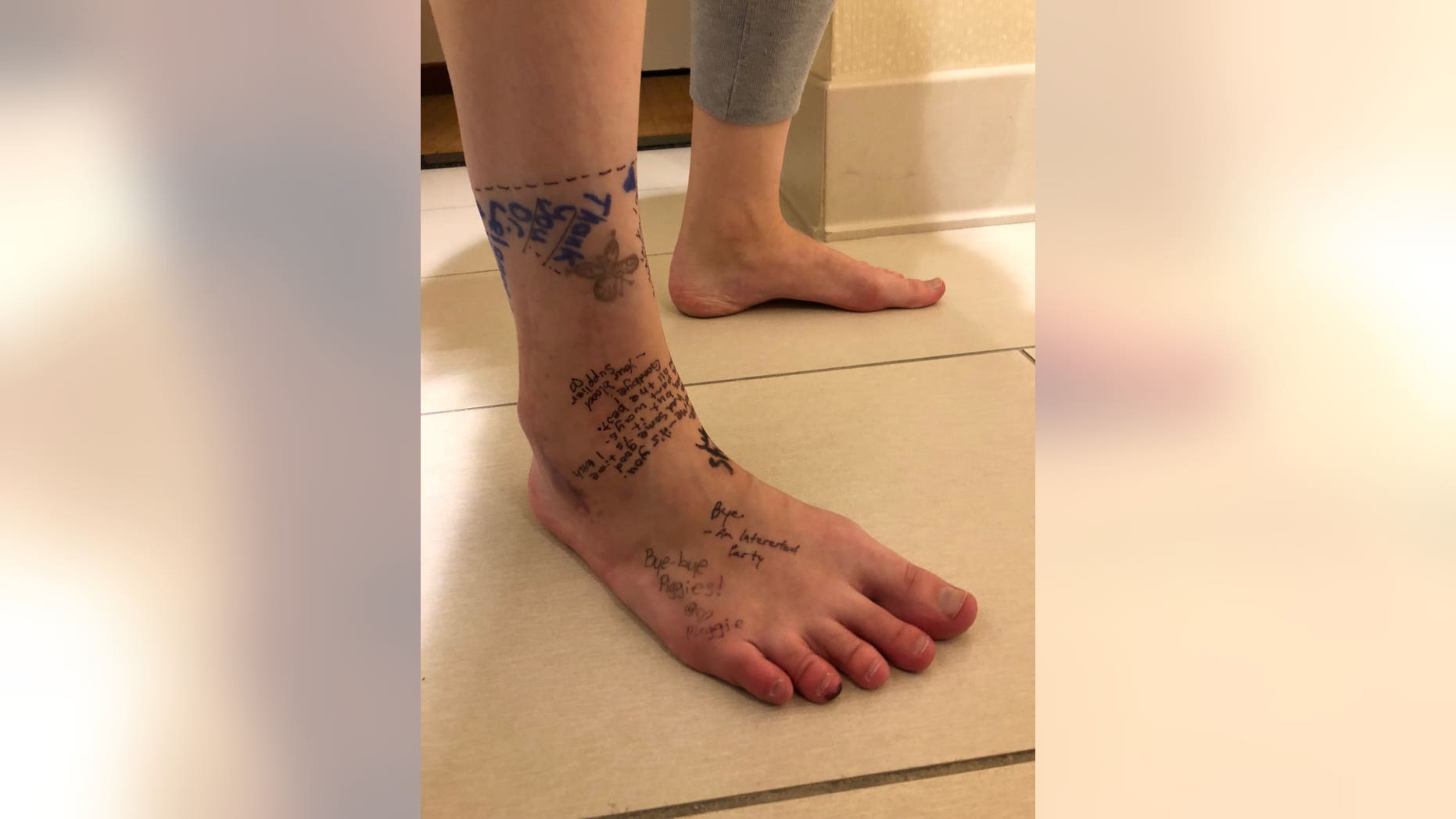 Before the amputation, Jordan Beckwith scribbled a note on her leg to say goodbye to her right foot.
(SWNS)
A Colorado woman who had part of her leg amputated in the fall after spending years in agonizing pain said she penned a "breakup" note to her limb before undergoing the 2.5-hour surgery.
"It's not me it's you," read one message Jordan Beckwith scrawled across her right foot. "I'm sure we've had some good times together, but it's time we parted ways. I wish you all the best."
MAN CLAIMS ENERGY DRINK ROTTED HIS TEETH, CAUSED SEVERE PAIN
The 27-year-old, who signed her note, "Your blood supplier," reached the agonizing decision to amputate her right leg below the knee after years of pain stemming from a horse-riding accident at age 13, according to SWNS.
Beckwith, of Colorado Springs, said she flipped over the horse's shoulder and broke her tibia, with the shattered fragment ending up lodged in her leg.
"The bottom chunk of the bone had broken. An inch of it had snapped off and was shoved up into my leg," she told SWNS.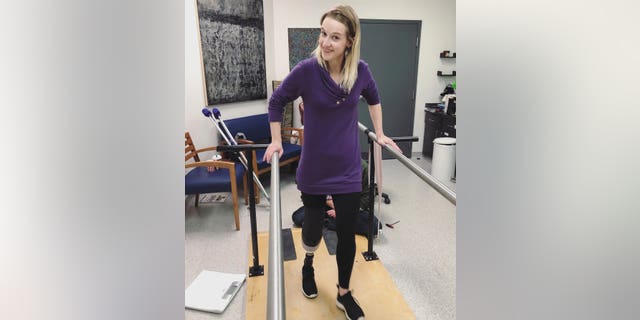 Beckwith, who is chronicling her recovery on YouTube, said she had been in pain since a horse-riding accident at age 13. 
(SWNS)
A corrective surgery proved unsuccessful, and she allegedly had her ankle broken a second time in an effort to set it, but she never fully recovered. Another surgery involved a steel plate and screws but was in enough pain to necessitate pain medication all throughout her teen years. As an adult, she said she could no longer do her job or keep up with her hobbies.
DOES ABSINTHE REALLY MAKE DRINKERS HALLUCINATE? 
"About 18 months ago, I got to the point that it never got better," she told SWNS. "There were only bad days."
A surgeon gave her the option of amputation or ankle replacement, but she claims she wasn't a good candidate for the replacement because of her young age.
"I didn't want endless surgery," she told SWNS.
On Oct. 11, 2018, she underwent amputation surgery at University of Colorado Hospital, and said despite immense pain from surgery she thought, "I am really glad I made this decision."
CLICK HERE TO GET THE FOX NEWS APP
She has started chronicling her recovery on the YouTube Channel Footless Jo, which she said has helped her process everything. She said she has looked into getting a running prosthetic and looks forward to one day running, which she hasn't been able to do since she was a young teen.
"Sharing what I'm going through gives me strength and makes me feel like I'm helping others," she told SWNS.
Source: Read Full Article