Winning a world championship belt would probably be the pinnacle of any athlete's career. For a boxer like Anthony Joshua, an undefeated heavyweight who blends size, charisma, and power (21 of his 22 pro fights have ended in knockouts), the belts (he currently holds three of the four major titles in boxing) are just one more marker in his journey to take his place as one of the best fighters of his generation—and hopefully among the sport's all-time greats.
Outside the ring, Joshua has a huge following on Instagram, where he gives fans an inside look at his training camps and workouts, and a sponsorship deal with Under Armour, which make his public profile anomalous to the current level of fame afforded to the opponents he faces in the ring.
The 29-year-old Brit will fight to retain his championship status next month against Andy Ruiz on June 1 at Madison Square Garden in New York City. Last time he was in Manhattan, Joshua and the DAZN team (which will broadcast fight) hosted Men's Health to run through his top 5 moves.
Anthony Joshua's Top 5 Moves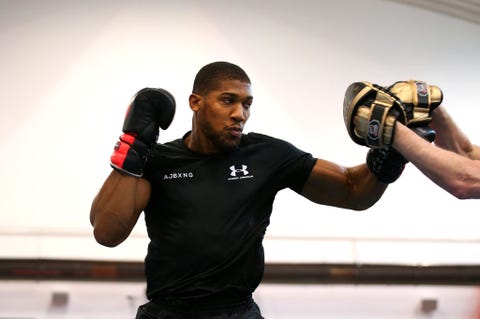 Alex LiveseyGetty Images
5. Footwork
"Interestingly, when you think of boxing what you think of is your hands," Joshua said. "But one of my favorite moves is my footwork."
Joshua credits his footwork as a safety valve, which helps him to avoid trouble and keep him safe in the ring when he's winded. "[Muhammed] Ali showed us how good and fluid you can be on your feet," he said.
4. Torso Movement
"It doesn't matter how quick or powerful the opponent, if they can't hit you they can't effect you," Joshua said. "Boxing is a sweet science and it is about trying not to get hit."
3. Exercise for Core Stability
"I think exercise is important to build up your core stability because you're using it so much," he said.
Joshua recommends performing exercises like planks, resistance band pulls, and other functional moves that mimic the motions he makes in the ring.
2. Feints
"Everything I've mentioned so far hasn't really involved punching," Joshua said. "But there are so many different ways to skin a cat."
The fakes and feints in a boxer's arsenal are so important, he said, because the sport is a game of milliseconds. "Either you're going to make them show their move, or you're going to make them go into their shell, and then you can get off your move."
1. Uppercut
"I really like the uppercut, because it's not a shot that people really expect," he said. Joshua likes to play on his opponents' tendency to defend against straight punches and hooks with higher guards—which leave them wide open to his punishing uppercut from below.
"You feint to the top, as I mentioned earlier, bring up the uppercut and boom—draws up, and with that power and momentum they tend not to come back, they fall back with the uppercut," he said. "Ding ding ding, another win under the belt and on to the next one."
Source: Read Full Article