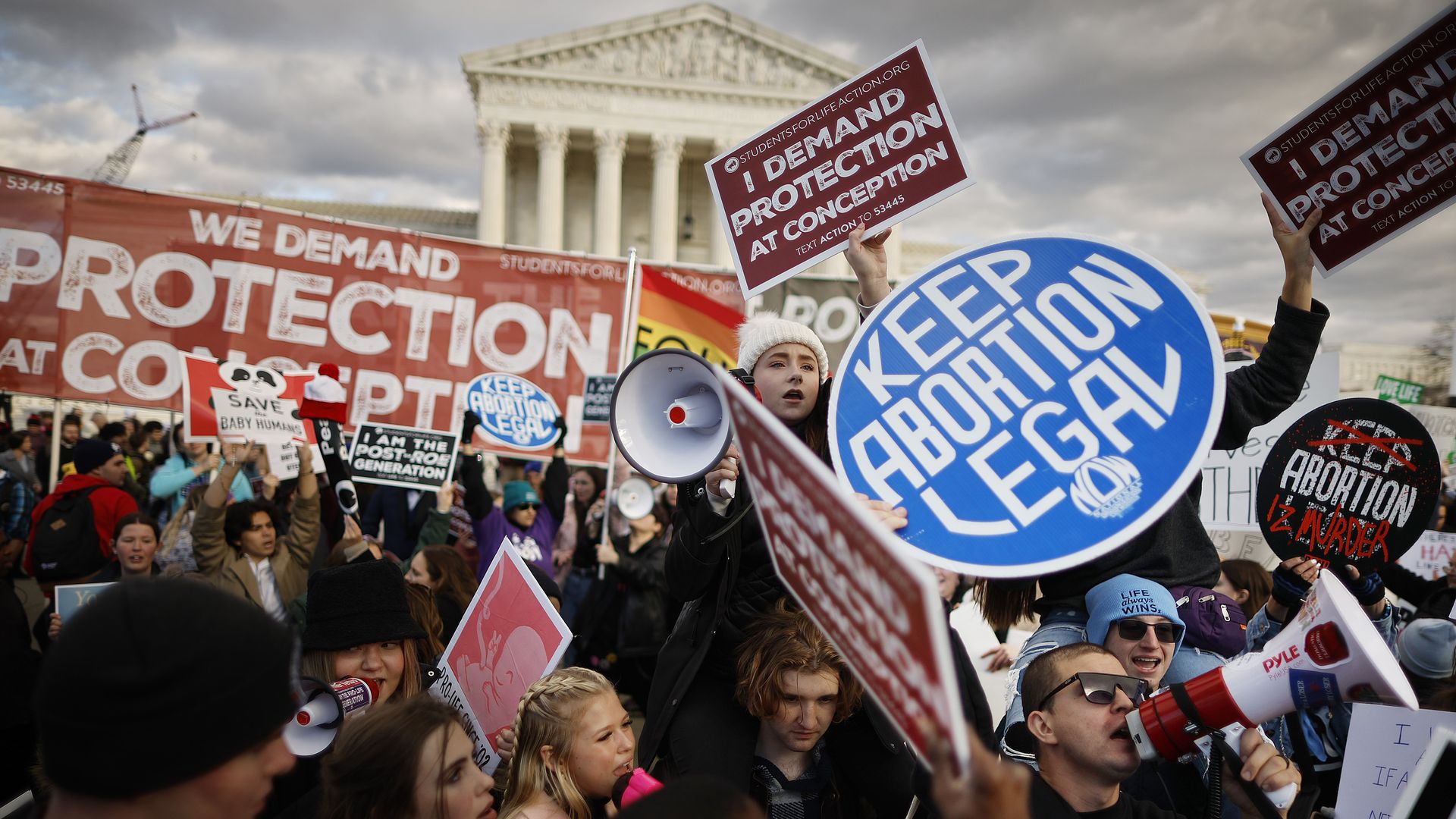 Photo: Chip Somodevilla/Getty Images
The Supreme Court on Friday temporarily blocked lower court orders that imposed restrictions on the widely used abortion pill mifepristone, keeping the status quo for the most common form of medication abortion while a legal challenge to the Food and Drug Administration's authority plays out.
Why it matters: The decision forestalled what would have been an unprecedented court-ordered rollback of FDA powers and at lest temporarily settled a legal standoff arising from conflicting orders issued by separate federal courts on abortion pills.
The U.S. district court in Texas and the 5th U.S. Circuit Court of Appeals orders reimposed restrictions on mifepristone that FDA had gradually removed over the years.
But a Washington state federal court ruled that the FDA cannot roll back access to mifepristone in 17 states and the District of Columbia, in a case brought by Democratic state attorneys general.
Details: Without issuing an opinion, Justice Samuel Alito ordered that the lower court rulings are stayed until next Wednesday, April 19.
He ordered the anti-abortion groups that originally brought the lawsuit to respond to the Justice Department's appeal of the rulings by Tuesday.
What we're watching: The order is not a final decision from the court and it is likely that another order will be issued at some point next week, after the anti-abortion groups' response is submitted.
What this means: Access to mifepristone for medication abortion will remain unchanged at least until Wednesday.
State of play: The DOJ argued in its appeal on Friday that if the mifepristone restrictions took effect, they would "upend the status quo based on the court's deeply misguided assessment of mifepristone's safety."
Danco Laboratories, the manufacturer of the brand name version of mifepristone, said that it would be unable to market and distribute the drug while the FDA made labeling changes to reflect the new restrictions, which were initially set to take effect on Saturday.
Between the lines: Friday's ruling came less than a year after the high court overturned Roe v. Wade, in a case during which justices argued that the high court did not have the authority to create national abortion policy.
Alito wrote in the opinion of the Dobbs case that overturned Roe that the court could not regulate abortion, adding that that power rested with the "people and their elected representatives."
Justice Brett Kavanaugh concurred, saying that the court did not "possess the constitutional authority … to decree either pro-life or pro-choice abortion policy for all 330 million people in the United States."
Source: Read Full Article