The incidence and prevalence of IgG4-related disease each rose considerably from 2015 to 2019 in the United States, and the risk of death in those with the immune-mediated condition is about 2.5 times higher than those who are not affected, based on an analysis of claims data from commercially insured adults.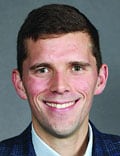 Dr Zachary Wallace
The first population-based study of IgG4-RD incidence, prevalence, and mortality establishes "key benchmarks for informing the diagnosis and management of patients" with a condition "that causes fibrosing inflammatory lesions at nearly any anatomic site," and wasn't initially described until 2001, Zachary S. Wallace, MD, and associates said in Annals of the Rheumatic Diseases.
The increases in incidence and prevalence likely reflected increased disease awareness, they suggested. Overall U.S. incidence was 1.2 per 100,000 person-years for the 5-year period of 2015-2019, rising 86% from 0.78 per 100,000 person-years to 1.45 in 2018 before dropping to 1.39 in 2019. The change in prevalence was even greater, increasing 122% from 2.41 per 100,000 persons in 2015 to 5.34 per 100,000 in 2019, the investigators said.
Previous studies had indicated that the majority of patients with IgG4-RD were male, but the current study, using Optum's Clinformatics Data Mart, which includes commercial health plan and Medicare Advantage members in all 50 states, showed that both incidence and prevalence (see graph) were higher among women, noted Dr. Wallace of Massachusetts General Hospital, Boston, and associates. They identified 524 patients (57.6% female) in the database who met the criteria for IgG4-RD from Jan. 1, 2010, to Dec. 31, 2019.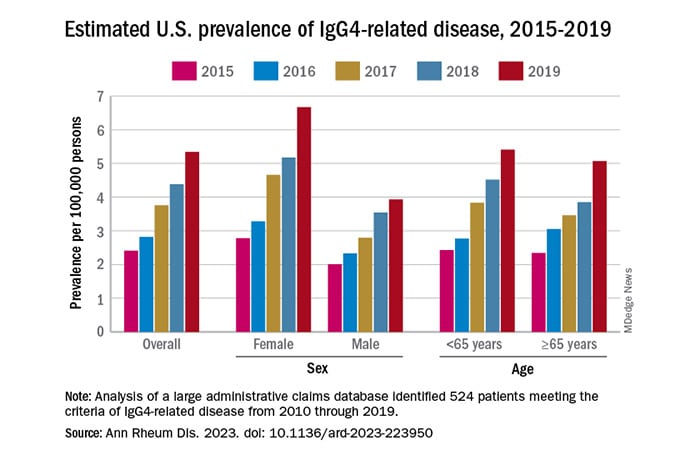 Incidence over the course of the study "was similar in patients identified as Asian or White but lower in those identified as Black or Hispanic," they noted, adding that "the prevalence of IgG4-RD during this period reflected similar trends." A jump in prevalence from 2018 to 2019, however, left White patients with a much higher rate (6.13 per 100,000 persons) than Asian patients (4.54 per 100,000), Black patients (3.42), and Hispanic patients (3.02).
For the mortality analysis, 516 patients with IgG4-RD were age-, sex-, and race-matched with 5,160 patients without IgG4-RD. Mortality was 3.42 and 1.46 per 100 person-years, respectively, over the 5.5 years of follow-up, so IgG4-RD was associated with a 2.5-fold higher risk of death. "The association of IgG4-RD with a higher risk of death was observed across the age spectrum and among both male and female patients," the researchers said.
"Clinicians across specialties should be aware of IgG4-RD given the incidence, prevalence, and excess risk of death associated with this condition. … Additional studies are urgently needed to define optimal management strategies to improve survival," they wrote.
The study was supported by a grant to Massachusetts General Hospital from Sanofi, and Dr. Wallace received funding from the National Institutes of Health/National Institute of Arthritis and Musculoskeletal and Skin Diseases, and the Rheumatology Research Foundation. He has received research support and consulting fees from several companies, and four coinvestigators are employees of Sanofi.
This article originally appeared on MDedge.com, part of the Medscape Professional Network.
Source: Read Full Article