David Warner had to limp off the field on Tuesday as his body was wracked with cramps during his magnificent double century in his 100th Test.
He'd suffered from the length of his innings and the blazing sun, which resulted in temperatures of 36 degrees celsius. But there have been questions about what he used in an attempt to combat the cramps that had been building while he amassed a double ton. The opener drank pickle juice tonic.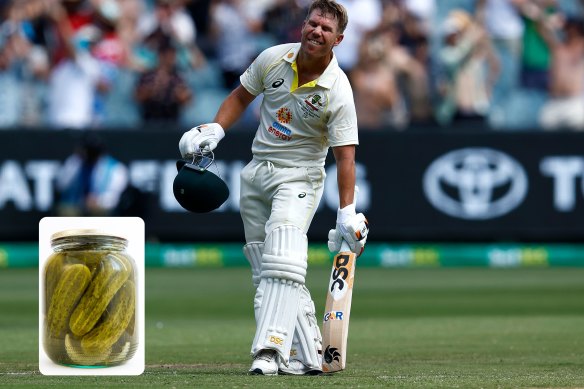 Batsman David Warner might have retired hurt during the second Test on Tuesday but the juice he swigged to battle leg cramping has been touted as having great physical benefits. Credit:Getty Images / iStock
He's far from the first world-class athlete to turn to the juice during agonising sporting matches.
Earlier this year, Russian player Daniil Medvedev, then the world's number two player, kept swigging it from a small plastic bottle during an ungodly five-and-a-half-hour against Rafael Nadal in the finals of the Australian Open, after his lead against the world's best player began to slip.
It didn't work, exactly. Nadal ended up bagging his 21st grand slam against Medvedev. But what everyone wants to know now – and what has kept sports fans and health nuts tittering on social media like a bunch of school mums at the gate – is: can it help the rest of us?
Firstly, the supposed benefits. Over the years, many athletes have sworn by drinking pickle juice in order to stop muscle cramping.
So, does it work?
"It does stop cramping," says Caitlin Reid, a sports dietitian and yoga teacher with the National Rugby League who works with the Wests Tigers and the Canterbury-Bankstown Bulldogs. "Every game, pretty much, a group of players will use that."
But, she adds, though there has been some research backing up the claim, it doesn't work for everyone. "Everyone responds differently, and there's no guarantee that it will work for every athlete," she says. "Most of the athletes that will use it that I work with do feel a benefit from it. Literally, if you use it properly, you can stop cramping within 15 to 20 seconds."
The pickle juice she uses – and that Warner likely used – isn't actually pickle juice, though, but instead a commercially produced replica of pickle brine that features vinegar, which is the primary active ingredient that aids in muscle cramping.
The magic in pickle juice (both real and replicated), says Simone Austin, past president of Sports Dietitians Australia, lies with the acetic acid in the vinegar.
"We don't really understand, still, what causes cramps, but the idea of the pickle juice is that when you put it in your mouth, there's receptors in the back of your throat and we think it hits them, and they basically send a signal back to the muscle to ease the cramp," says Austin, who was the Hawthorn Football Club's dietitian from 2008 until 2020, and is author of the book Eat Like An Athlete.
This is why, she adds, some athletes don't swallow the juice, but just gargle it, which many find to be sufficient.
So can the rest of us just drink real pickle juice and get the same effect?
"So, the pickle juice company" – the ones that make the specially formulated supplements like athletes commonly drink – "will say that's [pickle brine] not 100 per cent pickle juice, it's got sugar or other bits, but when I was working in AFL, we would often use the juice strained from the pickles, and they would swirl enough of it in their mouth [before spitting it out] because it doesn't taste great," says Austin. Some Hawthorn players, she says, would use it preventatively – during the break before the last quarter of a game if they knew that's when they normally cramp – while others would use it if they felt a cramp coming on.
One caveat, says Reid, is that real pickle brine has a much higher sodium content than commercial pickle juice supplements, and this higher sodium can cause stomach upset. Plus, brine also has added sugar, "and that might not sit very well", she says. "Pickle juice is an especially formulated product for cramping, and [has additional ingredients to be] a hydration aid on top of that. Whereas pickle juice [brine] won't offer that as well."
Is pickle juice, either real or formulated, just for elite athletes needing to power through marathon sport sessions that require strength and agility? Or can us mere mortals benefit from it, too?
"I don't think we all need to be glugging it, but if you're someone who likes to compete at your exercise and get better for yourself, and you're finding cramping is an issue, it's not going to hurt you to try it," says Austin, adding that she is talking about 50mls of the stuff, rather than 200mls, and that people need to run their plan past a health professional first. (The juice might not be suitable for someone with high blood pressure or other conditions.)
"It can definitely be of benefit to any of us that might be struggling [to exercise] in the heat, particularly with the humid weather," says Reid, adding that commercial pickle juice can stop cramping for about 50 minutes. "But the first port of call is to make sure you're drinking enough water. That's a really important part of hydration," she says, adding that water with added Hydralyte is a good option. "There's definitely no harm in using the pickle juice, but I wouldn't say it's this magic bullet that will stop all cramping."
Make the most of your health, relationships, fitness and nutrition with our Live Well newsletter. Get it in your inbox every Monday.
Most Viewed in Lifestyle
From our partners
Source: Read Full Article