Manager at Melanoma Institute Australia Jay Allen, 43, shares his day on a plate.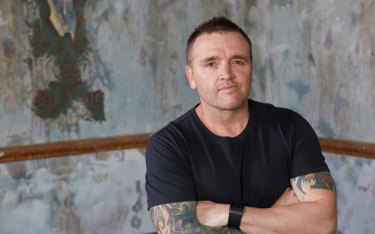 Manager at Melanoma Institute Australia Jay Allen.
7am Apple cider vinegar in a warm cup of water.
8.30am I have one kilogram's worth of fresh carrot juice, using the same juicer I've had for the 11 years since I was diagnosed with melanoma. I follow it up with poached eggs, grilled tomatoes, onion, sweet potato and bacon, plus a long-black coffee.
10am Another long black.
1pm Today's lunch is Thai with my wife and kids. I have my favourite dish of grilled chicken with chilli basil, while the kids stick to chicken and cashew nut.
3pm A handful of nuts, some fruit (including a green apple and a banana) and a cup of green tea.
7pm Dinner of grilled pork and steamed vegetables including broccoli, cauliflower, green beans.
9pm A glass of warm water with apple cider vinegar.
Dr Joanna McMillan says:
Top marks for … Getting vegies into all three meals and snacking on fruit, helping you to meet the recommended daily intake of five and two serves respectively. Vegies and fruit are rich in phytochemicals that may help protect against cancer development. There is also evidence that coffee and green tea reduce the risk of melanoma, but you would likely need to drink more than one cup a day to benefit.
If you keep eating like this you'll … Risk eroding the enamel of your teeth and damaging the delicate cells lining your oesophagus by drinking vinegar twice a day. There is scant evidence to support any health benefit from this practice.
Why don't you try … Focusing on dietary factors with evidence to support their role in reducing the risk of melanoma. Up your intake of green tea and/or coffee and eat oily fish three times a week. Cook vegies in extra virgin olive oil, or add a drizzle later, as it contains squalene, which plays a protective role against sun damage.
Jay Allen is currently leading Jay's Longest Melanoma March, a 50-day, 2000-kilometre walk from Adelaide to Sydney that concludes on May 19.
This article appears in Sunday Life magazine within the Sun-Herald and the Sunday Age on sale April 28.
Source: Read Full Article